Finding an Individual or Family Health Plan in MN during the COVID-19 Pandemic
Posted:
Mar 26th, 2020
10:38 am
Have Your Health Insurance Needs Changed During This Pandemic?  We're Here to Help.
At Slate Small Business Solutions, we know that the coronavirus pandemic is creating employment changes for many people. Those losing employer-sponsored coverage now find themselves in need of a new way to maintain health coverage for themselves and their families.
This week, MNsure announced that they're offering a 30-day special enrollment period (March 23 – April 21) for qualified individuals who currently don't have health insurance. That means if you recently lost your employer-sponsored insurance or if you've been uninsured for a while, you can enroll in a health plan now.
There's a great deal of information out there and determining what does and doesn't apply to you can be overwhelming. You can count on Slate Small Business Solutions to guide you through this. To start, here are answers to some of the most common questions we're hearing this week.
1. I recently lost my job, and COBRA is too expensive for me and my family. What options do I have?
There are four different types of coverage besides continuing your group plan through COBRA: Medical Assistance, MinnesotaCare, Tax Credit Eligible MNsure plans, and private plans. If you've recently lost your health insurance but your household income is above the threshold for MinnesotaCare or Medical Assistance, you don't need to panic—and you don't need to pay the exorbitant cost of COBRA. Minnesotans are lucky to have a state health insurance marketplace, MNsure, where they can apply for financial help and enroll in an individual plan (as opposed to using the federal hub). But you can always choose to skip MNsure altogether if you won't qualify for a tax credit. We can help you enroll directly through the carrier of your choice if need be!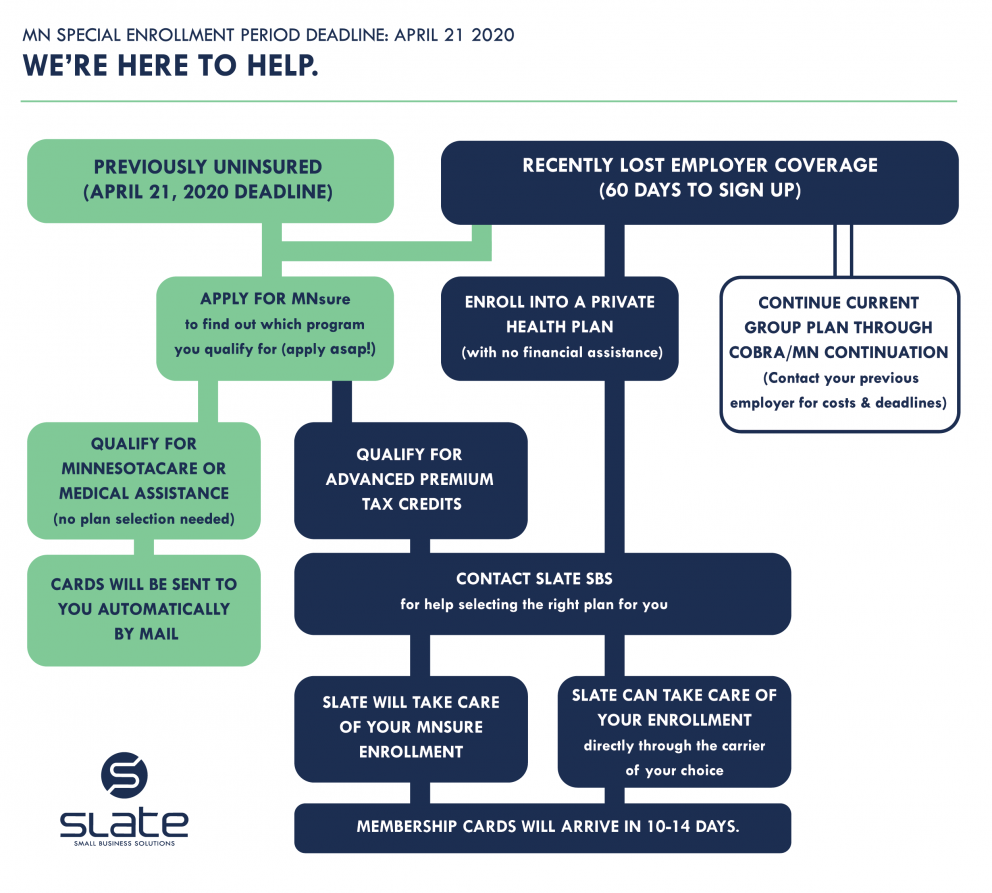 2. How do I know if I qualify for MinnesotaCare or Medical Assistance?
MinnesotaCare and Medical Assistance are health care programs that provide coverage for adults and children in Minnesota who lack access to affordable health insurance. To learn more about what you may qualify for, check the MNsure website's income guidelines.
As an example, if you are a household of two and earn less than $33,820 a year, you likely qualify for assistance via MinnesotaCare or even Medical Assistance. If you qualify for either one of these public programs, a plan will be provided to you (plan selection isn't an option). Note that some MinnesotaCare members may have a small co-pay, depending on their household income and size. Use their premium estimator tool to learn more. If you need help enrolling in MinnesotaCare or MA, contact a MNsure Navigator.
3. I've heard about an advanced premium tax credits (APTC) through MNsure. How does that work?
Tax credits can be used to reduce the cost of your insurance premiums each month. APTC eligibility is based on income with a sliding scale. For instance, if you are a tax household of two and are projected to earn between $33,820 and $67,640 in 2020, you will likely qualify for APTC. The credit is based on a sliding scale of your income, so those who make less will receive more. The first step to understanding whether or not you qualify is to look at the income guidelines.
If you are in the income range to qualify for an APTC, or if you need to talk through this with someone – give us a call! Slate is here to help you understand the process of applying through MNsure. Most importantly, we can recommend plans that will work for you and your family and take care of the enrollment process for you. Please note that if your 2020 income is going to be in the range for Medical Assistance or MinnesotaCare, you will need to find a Navigator in your area to assist you.
4. Do I have to act now?
There's no time like the present! If you have recently lost your job, you only have 60 days to enroll in a new health plan. If you were previously uninsured, you only have 30 days to enroll. Otherwise, you'll have to wait until open enrollment in the fall, with coverage not beginning until January 1, 2021.
5. What is the role of a health insurance broker?
Brokers are like your personal insurance shoppers. We listen to your needs and help you select a plan. Don't worry—our advice and all our client services are free! It's our job to help you make the right choice for your situation. We work with a wide variety of insurance providers, and we are passionate about providing the personalized support you need to be confident in your plan choice. We also assist with income updates to MNsure throughout the year, and we automatically review your coverage in the fall during open enrollment to ensure it still meets your needs. We will ask you the right questions—where you go for doctor visits, which medications you take and any special requirements or needs your family has—to connect you with the right coverage at the right price for your situation. Speaking of price- it's free to work with a broker! We are paid by the insurance carrier you ultimately choose, once you enroll. As brokers, we don't have any reason to sway you toward one carrier or the other. We know that if we help you select the right plan for you, that you'll stay with us which is our only motivation.
6. What should I do when I'm ready to get started?
Reach out to us! Not only is it free to work with a broker, at Slate Small Business Solutions we have years of experience in the individual market. We're looking forward to assisting you in this time of uncertainty. We'll combine our expertise with a personalized one-on-one approach to discuss the many options available to you. Let's partner to find a new health plan that meets your needs
7. I'm a business owner, and I may need to consider lay-offs. Where can I go to learn more, and what resources can I pass along to my employees?
If you are a business owner and need help to understand options for your employees during this time, please give us a call! We can help guide you (and ultimately your employees) in the right direction.
If you have a group plan, you will need to offer your employees COBRA continuation of coverage. (We have resources for this!) Some employees may want to elect COBRA, and some will want to shop around for other options. They may find this blog post helpful, so feel free to share it so they can reach out for support.
More questions? Contact Slate Small Business Solutions 612-354-2917 or emily@slatesbs.com
Contact us to learn more or request a quote